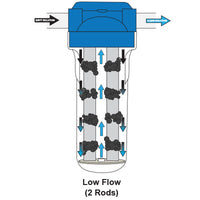 Magnet Filters
East Coast Filter, Inc.'s Magnetic Filters are designed to easily remove Ferrous materials from various fluids, including Cutting Oils and Water-based Coolants without the need to constantly replace filters. By removing the Metal Fines from Cutting Oils and Coolants, the fluid can be used for longer periods of time, extends the lifespan of machine tooling, and reduces overall process cost.

With many different sizes and configurations available, East Coast Filter, Inc. has the best Magnet Filter for every application. Each Magnetic Filter can be effortlessly integrated inline of an existing process or installed into a new process.

Maintaining and operating Magnet Filters is extremely simple and only requires an operator to manually wipe down the Magnetic Rods when they have been contaminated with solids and re-install them back into the housing.
Request a quote
Multiple configurations and sizes to meet each application requirement
Utilizes 7,000-10,000 Gauss Magnetic Rods
Reduces Machinery Downtime
Reusable - Don't need to continually pay for replacement Filters to remove Metal Fines from Solution
Prevents Bacterial Growth and Minimizes Exposure to Abrasive Swarf
Easy to Install and Use
Wash Systems
Grinding
Lapping
EDM
Honing
Deep Hole Drilling
Super Finishing
Laser Cutting

Cannot find the configuration you are looking for? We would be happy to issue you a formal quote with exactly what you need.