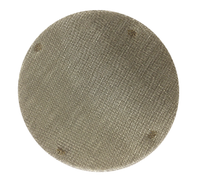 Mesh Packs
East Coast Filter's SP Series Mesh Packs are manufactured out of 304SS, 316SS or Carbon Steel wire mesh construction. Our complete line of SP Mesh Pack Discs are manufactured with the highest quality wire mesh and are all cut to size using a calibrated stamp punch process to ensure accurate and consistent dimensions.

The SP Series Mesh Packs are available in a single layer wire mesh and can be manufactured using up to ten different layers. Multiple layers are spot welded together to maintain OD Tolerance.
Request a quote
 Materials - 304 SS, 316SS and Carbon Steel Wire Mesh
 Layers - Available in a single layer, dual layer and more, based on application requirements. (Multiple layers are spot welded together)
 Filtration - 10 U.S. Mesh through 2500 U.S. Mesh
 Size - 1" to 12" OD, Custom Sizes Available
In Line Filtering 
Aggressive or High Temperature
Last Chance Filter
Vacuum Pump Protection
Injection Molding Process
Plastics Recycling
PVC and Other Fine Dust Transfer Lines
Inks, Coatings and Adhesives

Below is all information pertaining to the Mesh Packs:

Mesh Packs
Cannot find the configuration you are looking for? We would be happy to issue you a formal quote with exactly what you need.