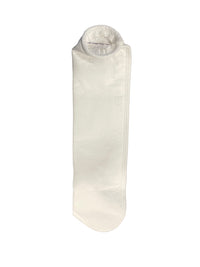 Neptune Pot Feeder Bag Filters
The Neptune Model FTF Replacement Bag Filters are made specifically to be used in The Neptune Pot Filter Feeder. The Neptune Filter Feeder combines chemical addition and high capacity filtering in one piece of equipment. It is a convenient way to introduce solid or liquid chemicals into hot or cold water closed loop circulating systems, while also removing rust, scale and other particles.

With filters ranging from Ultra-Fine, Fine, Medium, and Coarse, we have a filter to fit any filtration specification. Custom Micron sizes are also available. These bags are made from all Polypropylene Felt with a Galvanized Ring and handle for easy change-outs between uses.

Replacement Neptune Pot Feeder Gaskets are also Available! Check it out Here!
Request a quote
Polypropylene Glazed Felt Media
3.25" Galvanized Ring
21" in Length
Standard Handle for easy removal
1, 5, 20 and 50 Micron (Other Microns available upon request)
Cannot find the configuration you are looking for? We would be happy to issue you a formal quote with exactly what you need.