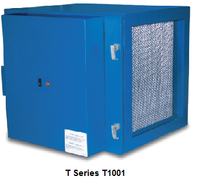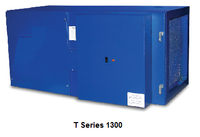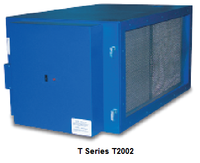 T-Series
The T-Series is ideal for the removal of smoke, fumes and oil/coolant smoke and mist. It has the ability to clean contaminated air and recirculate it back to the work area, reducing energy costs by not having to exhaust conditioned air to the outside.

Models T1300, T2600, and T5200 can be installed either unducted or ducted for source capture. Models T1001 and T2002 are designed for in-ducted capture.
Request a quote
Solid State Power Supply
Spiked Ionizing Blades
Extra Depth Collector Cells
Totally Enclosed Fan Cooled Motor
Electrical Component Box Mounted out of Air Stream
Optional Multi-Purpose Plenum
Motor HP Options for Added Static Pressure
Self Glazing Ceramic Insulators
Extra Depth Collector Cell with More Dirt Holding Capacity 
Spiked Ionizer
High Efficiency - Up to 95% One Pass and 99% on Double Pass Option
Permanent Ionizer/Collector Elements - No Replacement Costs
Low Pressure Drop
Hinged Filter Access - No Tools Required
Below is all information pertaining to the T-Series Coolant Mist Collectors:

T-Series 

Cannot find the configuration you are looking for? We would be happy to issue you a formal quote with exactly what you need.